NASA Celebrates IYA2009
10 August 2009
The National Aeronautics and Space Administration (NASA), in partnership with the U.S. national node and the IAU/UNESCO, of which it is an Organizational Associate, has developed a rich and vibrant program for the International Year of Astronomy 2009. We kicked off the event at the American Astronomical Society meeting in January 2009, with a sneak preview of the multiwavelength image of M101, taken by the three NASA Great Observatories, Hubble Space Telescope, Chandra X-Ray Observatory, and Spitzer Space Telescope. There was a steady stream of visitors at the NASA booth at the Opening Ceremony in Paris. Since then NASA programs have touched the hearts and souls of the young and old both in the U.S. and internationally. All NASA programs can be accessed via the website http://astronomy2009.nasa.gov/. Below is an update on some of the NASA programs - there are many more!
-Great Observatories Image Unveiling (HST-Spitzer-Chandra views of M101) - travelling exhibit at 116 science centers, museums, planetariums, and schools around USA.
-Visions of the Universe: Four Centuries of Discovery traveling exhibit for public libraries
-From Earth to the Universe image exhibition has been displayed in non-traditional venues in USA and around the world.
-Object of the month: Chosen by scientists to be easily observable by the public and supported by "Discovery Guides", "What's Up" video & podcasts, "Amazing Space" resources, "Epo's Chronicles" webcomic.
-MicroObservatory: Take and process your OWN images with the MicroObservatory robotic telescopes.
-Sun-Earth Day 2009 live webcast took place on March 20, 2009. Scientists shared top discoveries about the Sun. Students monitored the Sun and prepared their own space weather forecast. A download of the webcast is now available with the transcript.
- Around the World in 80 Telescopes: NASA missions participating in the 24-Hour Observatory included Hubble Space Telescope (HST), THEMIS, RHESSI, and FAST, Swift, Fermi, SOHO, TRACE, STEREO, GALEX, Chandra, Spitzer, (plus ESA scientists highlighting XMM-Newton and Integral).
- "Hubble's Next Discovery - You Decide" contest drew contestants from around the world in the selection of an object for observation by the Hubble Space Telescope (HST).
- Teacher Workshops associated with the launch Kepler, HST Servicing Mission 4, WISE missions have been planned/executed.
- International participation of NASA scientists on May 6-8, 2009, in a space adventure (Aventura Espacial) in Barranquilla, Colombia
-NASA IYA Student Ambassador program has spread the excitement of NASA missions in all 50 states of the U.S., Puerto Rico and the District of Columbia.
-Women in Astronomy and Space Science workshop, addressing the challenges of a diverse workforce will be held in October 2009 at College Park, MD.
Hashima Hasan and Mario Perez
NASA Headquarters, Washington DC 20546, USA
Search IYA2009 Updates
---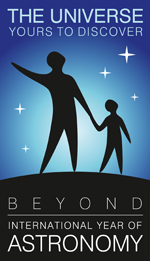 National Nodes: 148
Organisational Nodes: 40
Organisational Associates:33
National Websites: 111
Cornerstone Projects: 12
Special Task Groups: 11
Special Projects:16
Official Products:8
Media Partners:22