Twitter Perseid meteorwatch set for August 11 and 12
12 August 2009
One of the annual highlights of stargazers' calendars is the Perseid meteor shower. Occurring every August, they regularly astound with their bright trails lingering in the night sky.
To help everyone around the world be involved with this spectacle, the UK's Newbury Astronomical Society has organised a Twitter meteorwatch for 11 and 12 August 2009. Using the site Twitter and the hash tag #Meteorwatch, people can ask questions, follow the event, and enjoy the night sky with other beginners and enthusiasts. Images and information will be tweeted live. The meteorwatch will begin at 21:30 BST on 11 August, continuing through to the evening of 12 August.
No special equipment is needed to watch the shower. In fact, your unaided eyes are probably the best instruments to use, as you can take in a lot of the sky at the same time. Sit on a recliner facing east, and simply look up. Perseids are distinct, being bright and often leaving a telltale trail. To get the best views, try to observe as far away from city lights as possible. Skyglow from urban areas will hamper observation attempts, although bright shooting stars should be visible even with light polluted skies.
The shower is actually visible from 17 July to 24 August, but the peak - when the most will be seen - is around the night of 11 / morning of 12 August. This year the bright Moon will drown out dimmer streaks, but many will still be visible.
The search engine Google has changed their logo to celebrate this year's Perseid meteorwatch: www.google.com
Remember to wrap up warmly, and take a hot drink in a flask. Try to avoid lying on the ground, as that will sap your warmth. The longer you observe the more you will see, so plan to be out for a few hours if possible. Remember to let friends or family know where you are, for safety.
The Perseids are easy to observe, and after watching them for yourself you will see why they are a firm favourite of amateur astronomers!
Meteorwatch Twitter feed: http://twitter.com/NewburyAS/
Newbury Astronomical Society: http://newburyas.wordpress.com/2009/08/03/twitter-meteorwatch/
Twitter meteorwatch press release: http://www.astronomy2009.co.uk/index.php/press-and-media/122
Sky & Telescope article on observing the Perseids: http://www.skyandtelescope.com/observing/objects/meteors/3310516.html
Search IYA2009 Updates
---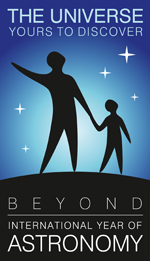 National Nodes: 148
Organisational Nodes: 40
Organisational Associates:33
National Websites: 111
Cornerstone Projects: 12
Special Task Groups: 11
Special Projects:16
Official Products:8
Media Partners:22