Shoppers Across the U.S. to Experience "The World at Night"
18 August 2009
An exhibit of stunning photographs of the night sky as viewed over many of the most beautiful natural, historic and cultural landmarks in the world is being shown at 24 shopping centers across the United States from now through November 8.
Known as "The World At Night," the exhibit is a special project of the International Year of Astronomy 2009 (IYA2009), an ongoing global celebration of the science of astronomy and its contributions to society over the 400 years since Galileo's first use of the telescope.Among the well-known sites featured in "The World at Night" (TWAN) are Yellowstone National Park in the United States, the Parthenon in Greece, and magnificent monuments across Asia, all set against the grandeur of the starry sky. Supported by Developers Diversified Realty for the properties it manages, this exhibition is the largest showing of TWAN mounted in the United States during IYA2009, according to the organizers. More than 30 countries have hosted TWAN exhibits this year.
"We have found that TWAN images not only capture the public's imagination, but also bring educational value," says Project Director Babak Tafreshi. Each of the shopping centers hosting a TWAN exhibit will add localized educational elements such as contests, family workshops in astronomy, "Dancing Under the Stars" or "Movies Under the Stars," and the participation of Boy Scouts and Girl Scouts working toward their astronomy merit badges.
TWAN is collaborating with a variety of venues around the world to hold major exhibitions and educational events during IYA2009 and beyond. These exhibitions are meant to enhance the offerings of any museum or public space with eye-catching photographs produced by the TWAN team of specialized photographers. The exhibitions are designed to be shown either indoors or outdoors, and can be organized either as standalone exhibits or in conjunction with other IYA2009 exhibits or cultural or educational activities.
TWAN exhibitions will take place in a variety of U.S. cities, large and small:
August 1 - August 16:
Aspen Grove, Littleton, CO
Buena Park Downtown, Buena Park, CA
Deer Park Town Center, Deer Park, IL
Prairie Hills Mall, Dickinson, ND
Berlin Mall, Berlin, VT
Quincy Place Mall, Ottumwa, IA
August 22 - September 6:
Tamarac Square, Denver, CO
The Pike at Rainbow Harbor, Long Beach, CA
Times Square Mall, Mt. Vernon, IL
Paul Bunyan Mall, Bemidji, MN
The Waterfront, Homestead, PA
Copper Country Mall, Houghton, MI
September 12 - September 27:
Town Center Plaza, Leawood, KS
Paseo Colorado, Pasadena, CA
Village at Stone Oak, San Antonio, TX
Westgate Mall, Brainerd, MN
Liberty Fair Mall, Martinsville, VA
Tiffin Mall, Tiffin, OH
October 3 - October 18:
Great Northern Plaza, North Olmsted, OH
Christown Spectrum Mall, Phoenix, AZ
The Shops at Midtown Miami, Miami, FL
Birkdale Village, Huntersville, NC
Tri-County Mall, Cincinnati, OH
October 25 - November 8:
Watertown Mall, Watertown, SD
Background:
The World At Night (TWAN) is an international program by Astronomers Without Borders to create and exhibit a collection of stunning photographs and time-lapse videos of the world's most beautiful and historic sites against a nighttime backdrop of stars, planets and celestial events. More than 40 of the best landscape photographers, coordinators and consultants in 25 countries have contributed to TWAN.
TWAN aims to be a bridge between art, humanity, and science. "The eternally peaceful sky looks the same above all the landmarks and symbols of different nations and regions, attesting to the truly unified nature of Earth as a planet rather than an amalgam of human-designated territories," says Project Director Babak Tafreshi. "We are all one family under one sky."
See more than 1,500 images from TWAN: http://www.twanight.org
International Year of Astronomy 2009: http://www.astronomy2009.org
Astronomers Without Borders: http://www.astronomerswithoutborders.org
Stars Over Developers Diversified Realty program: http://www.starsoverddr.com
IYA2009 U.S. Web site: http://astronomy2009.us
For Further Information:
Babak Tafreshi
TWAN Director
E-mail: btafreshi@twanight.org
Mike Simmons
President, Astronomers Without Borders
Phone: +1 818-597-0223
E-mail: twan@astronomerswithoutborders.org
Lisa Wieting
Stars Over Developers Diversified Realty
Phone: 303-839-1415
E-mail: Lisa@CohnMarketing.com
Search IYA2009 Updates
---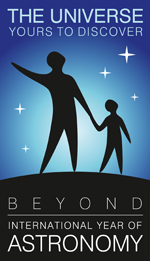 National Nodes: 148
Organisational Nodes: 40
Organisational Associates:33
National Websites: 111
Cornerstone Projects: 12
Special Task Groups: 11
Special Projects:16
Official Products:8
Media Partners:22