Galileoscopes donated for astronomy competition
18 August 2009
A lucky Brazilian student will soon be whizzing their way to the Kennedy Space Centre and National Aerospace Centre in the USA, as part of a competition run by the US Consulate in Rio de Janeiro, Brazil, Planetarium Foundation, State Department of Education, and Gávea Planetarium.
100 Galileoscopes will also be donated to participants, by chief executive of the American Astronomical Society, Kevin Marvel.
To be in with a chance of winning, contestants must answer astronomy questions as part of an Olympiad quiz, with early rounds being online, eventually building to a finale in Gávea Planetarium.
Read the full story (in Portuguese) here: http://odia.terra.com.br/portal/rio/html/2009/8/estudante_podera_fazer_jornada_nas_estrelas_28119.html
Search IYA2009 Updates
---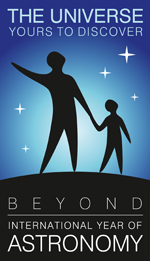 National Nodes: 148
Organisational Nodes: 40
Organisational Associates:33
National Websites: 111
Cornerstone Projects: 12
Special Task Groups: 11
Special Projects:16
Official Products:8
Media Partners:22