400 Years of the Telescope earns Best Director at the 2009 SCINEMA Festival of Science Film
18 August 2009
400 Years of the Telescope director Kris Koenig has earned the Best Director award at Australia's 2009 SCINEMA Festival of Science Film. The prestigious science film festival will screen across Australia from August 15-23, 2009. This year's theme includes the International Year of Astronomy and the Darwin anniversary.
The film, a celebration of the International Year of Astronomy, is beautifully photographed in 4K digital cinematography, a visually stunning chronicle of the history of the telescope from the time of Galileo, its profound impact upon the science of astronomy, and how both shape the way we view ourselves in the midst of an infinite universe.
400 Years of the Telescope features interviews with leading astrophysicists and cosmologists from the world's renowned universities and observatories, who explain concepts ranging from Galileo's act of revealing the cosmos with a simple telescope, to the latest discoveries in space, including startling new ideas about life on other planets and dark energy - a mysterious vacuum energy that is accelerating the expansion of the universe.
A companion planetarium program, Two Small Pieces of Glass, produced by 'Imiloa Astronomy Center, Buhl Planetarium and Interstellar Studios and distributed by the International Planetarium Society, is screening at over 1000 theaters worldwide. Australian planetariums include Launceston Planetarium, BlueScope Steel Planetarium, Horizon, Melbourne Planetarium and the Sir Thomas Brisbane Planetarium.
400 Years of the Telescope will now tour with the SCINEMA traveling film festival, playing across Australia in more than 200 venues. A DVD, companion book and the film's original score are available from the producers.
Kris Koenig shares his love of astronomy with the public through his inspired outreach efforts, photography and films. His work has taken him all over the world, including most of the major astronomical observatories. Kris is also founder and director of one of the most successful community observatories, and the United States! only outdoor planetarium.
A film producer from the ground up, his expertise in camera work, interviewing, lighting, editing, and production management is apparent in the ten-hour PBS telecourse "Astronomy: Observations and Theories", for which he won two Emmy® Awards in 2005, for Instructional Programming and Outstanding Nonnews Writer. His footage has been used in National Geographic productions, and his astrophotography graces the covers of acclaimed astronomical textbooks and appears in various publications and videos worldwide.
Interstellar Studios specializes in producing award-winning, multimedia productions that entertain and educate the public about the wonders of space, science and aviation. Conceived as a way to forge new links between the sciences and the arts, SCINEMA has explored ways to enhance communication to raise public and stakeholder excitement and trust in science through the medium of film, while also celebrating the scientific advances in film technology itself. http://www.csiro.au/scinema/
400 Years of the Telescope - A Journey of Science, Technology and Thought http://www.400Years.org
Search IYA2009 Updates
---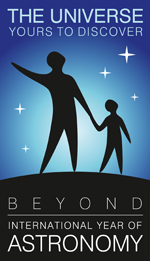 National Nodes: 148
Organisational Nodes: 40
Organisational Associates:33
National Websites: 111
Cornerstone Projects: 12
Special Task Groups: 11
Special Projects:16
Official Products:8
Media Partners:22