Space & Time
20 August 2009
"Space & Time" is a play for the International Astronomy Year 2009, written by the experimental work group "Cidadania".
It is a multidisciplinary event which faces the questions of science, philosophy, religion and art. The goal is to call attention to the close relationships between astronomy, natural sciences, philosophy, and civilisation, and their influence in the shaping of our future.
A mind-boggling performance combining video projections and live music at an unconventional stage.
4 - 7 October
UN City - Vienna
Austria
16 - 17 October
Staatstheater Darmstadt
Germany
More information: http://www.cidadania-darmstadt.info/
Search IYA2009 Updates
---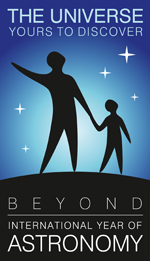 National Nodes: 148
Organisational Nodes: 40
Organisational Associates:33
National Websites: 111
Cornerstone Projects: 12
Special Task Groups: 11
Special Projects:16
Official Products:8
Media Partners:22