Japanese IYA2009 song is a smash hit
24 August 2009
IYA2009 is enjoying great success in Japan, in part due to popularisation campaigns such as astronomy book fairs, official movies, and even cakes. The idea was raised to supplement these with an IYA2009 song, and this has now come to fruition.
A famous singer, MISIA, made a song called Ginga (Galaxy), and asked if it could be used as a theme-song. The decision was made to accept, and so moves were made to create a video accompaniment. The National Astronomical Observatory of Japan (NAOJ) provided some computer simulation footage, while the Japanese IYA2009 Committee produced a replica of Galileo's telescope.
Ginga was released on 10 June and became a hit, recording an impressive 22nd in the Oricon ranking. During MISIA concerts, the song is played along with an introduction to IYA2009.
Ginga and the video are available to watch online: http://www.youtube.com/watch?v=qHkGZAOc9Ow
Search IYA2009 Updates
---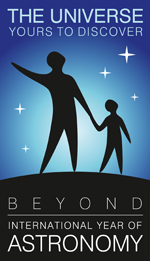 National Nodes: 148
Organisational Nodes: 40
Organisational Associates:33
National Websites: 111
Cornerstone Projects: 12
Special Task Groups: 11
Special Projects:16
Official Products:8
Media Partners:22