Celebrate UN-declared World Space Week 2009
21 September 2009
World Space Week - established by the United Nations in 1999 - is taking place every year between 4-10 October. It is the best occasion to use space to excite students!
During UN-declared World Space Week a large number of public events and educational programmes are held simultaneously all around the world, on the Internet, even in outer space!
As the theme of World Space Week 2009 is "Space for Education" we encourage in particular the participation of educational establishments to join us in celebrating our 10th Anniversary.
Apart from Universities, professional, primary and secondary schools the UN-declared World Space Week is open to anybody with an interest in space: non-governmental organisations, corporations, associations, cities, individuals, you name it!
As World Space Week participant you're encouraged to organize space-themed activities. More info and supporting links can be found in our worldwide Invitation to Participate (PDF/MSWord): http://www.worldspaceweek.org/Invitation_to_Participate.html
To show to the media and the public the extent of your event, classroom or organisation and how it contributes to the world celebrations it is of utmost importance to register your event at: http://www.worldspaceweek.org/calendar_2009.php
To recognize the most creative use of space to inspire students, World Space Week Association will offer several $500 Educational Award this year.
More information:
http://www.flickr.com/photos/worldspaceweek/
http://www.facebook.com/group.php?gid=2438174754
Search IYA2009 Updates
---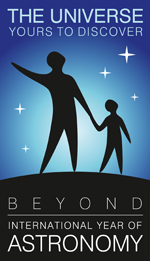 National Nodes: 148
Organisational Nodes: 40
Organisational Associates:33
National Websites: 111
Cornerstone Projects: 12
Special Task Groups: 11
Special Projects:16
Official Products:8
Media Partners:22