Quantum to Cosmos Festival is Online and Around the World
22 September 2009
With only one month to go until launch, Perimeter Institute's Quantum to Cosmos Festival is gaining interest - on-site, online and on TVO.
Engaging content is available to preview right now at q2cfestival.com, including clips of:
'The Quantum Tamers', a new documentary premiering at the Festival and on TVO, that features Stephen Hawking and reveals how a coming technological revolution may change your world.
'Alice & Bob in Wonderland', a new series of animated chalk drawings that shares simple questions leading to profound insights.
The free, highly accessible content is available online to everyone, and registered members can log in to start discussions, offer comments, and exchange emails. Guests are joining the virtual community from Canada, China, India, Germany, Hong Kong and the United States.
Come October 15-25, the q2cfestival.com website will rapidly expand as the actual lectures and panel discussions are shared online from Waterloo, Ontario, Canada.
Online visitors can watch these lectures and panel discussions as they happen through live video-streaming, or on demand at any time - all through q2cfestival.com.
Quantum to Cosmos Festival is Online and Around the World
Waterloo, Ontario, Canada, September 15, 2009
Search IYA2009 Updates
---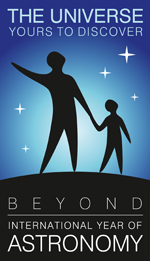 National Nodes: 148
Organisational Nodes: 40
Organisational Associates:33
National Websites: 111
Cornerstone Projects: 12
Special Task Groups: 11
Special Projects:16
Official Products:8
Media Partners:22