IYA2009 photographer Babak Amini Tafreshi wins the 2009 Lennart Nilsson Award
28 September 2009
Iranian photographer, journalist, and staunch IYA2009 supporter Babak Tafreshi has been declared joint-winner of the 2009 Lennart Nilsson Award, sharing the honour with NASA's Cassini Imaging Director Carolyn Porco.
The award is given for work in scientific and medical photography. The event's panel citation reads: "Babak A. Tafreshi's photographs reclaim a night sky that most modern people have lost. He takes us to remote places where the stars still look like they did at the dawn of mankind. His work calls to mind the beauty of the universe and human life on our planet."
Babak is the leader and founder of IYA2009 Special project The World At Night. This program creates and exhibits stunning collections of photographs and time-lapse videos from the world's most beautiful and historic sites against a night-time backdrop of stars, planets and celestial events. The eternally peaceful sky looks the same above all the landmarks and symbols of different nations and regions, attesting to the truly unified nature of Earth as a planet rather than an amalgam of human-designated territories.
The entire IYA2009 community congratulates Babak on this deserved award.
See the story, as reported by the Tehran Times: http://www.tehrantimes.com/index_View.asp?code=204090
Visit The World At Night's official website: http://www.twanight.org/
Read more about Babak here: http://www.twanight.org/newTWAN/photographers_about.asp?photographer=Babak%20A.%20Tafreshi
Search IYA2009 Updates
---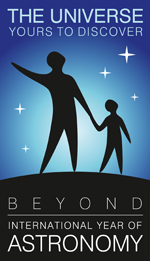 National Nodes: 148
Organisational Nodes: 40
Organisational Associates:33
National Websites: 111
Cornerstone Projects: 12
Special Task Groups: 11
Special Projects:16
Official Products:8
Media Partners:22