Galileoscopes signed by celebrities up for auction
28 September 2009
Two Galileoscopes have been signed by stars of the screen, in order to raise funds to donate more telescopes to children unable to obtain them.
One Galileoscope has been signed by cast members of the new Battlestar Galactica, and actress Felicia Day. The other has been signed by part of the Ghost Hunters International cast.
Bids on these special telescopes are being taken on the auction site eBay. For every $15 (US) of the winning bid, one Galileoscope will be purchased and sent to a school child. The auctions are set to end on 1 October 2009.
The Galileoscope is a high-quality, low-cost telescope kit developed for the International Year of Astronomy 2009 by a team of leading astronomers, optical engineers, and science educators. No matter where you live, with this easy-to-assemble, 50-mm (2-inch) diameter, 25- to 50-power achromatic refractor, you can see the celestial wonders that Galileo Galilei first glimpsed 400 years ago and that still delight stargazers today. These include lunar craters and mountains, four moons circling Jupiter, the phases of Venus, Saturn's rings, and countless stars invisible to the unaided eye.
Battlestar Galactica Galileoscope: http://cgi.ebay.com/ws/eBayISAPI.dll?ViewItem&item=140347449698&_trkparms=tab%3DSelling#ht_500wt_1182
Ghost Hunters International Galileoscope: http://cgi.ebay.com/ws/eBayISAPI.dll?ViewItem&item=140347450269&_trkparms=tab%3DSelling#ht_500wt_995
Official Galileoscope website: https://www.galileoscope.org/
Search IYA2009 Updates
---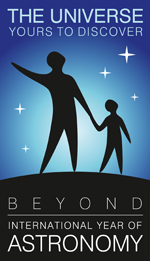 National Nodes: 148
Organisational Nodes: 40
Organisational Associates:33
National Websites: 111
Cornerstone Projects: 12
Special Task Groups: 11
Special Projects:16
Official Products:8
Media Partners:22