Astronomy enthusiast creates song and video for IYA2009
28 September 2009
IYA2009 supporter Michael A. Davis decided to do something special to celebrate this most astronomical of years. It was around September 2008 that the seeds were first sown in Michael's mind. His astronomer friend Jerry Langhals was spreading the word about IYA2009, hoping that it would help encourage people to go stargazing even if light pollution was a problem. This appealed to musical Michael, who had already written a song about insects (including lyrics such as "I got no problem with bugs / I just don't want them in my coffee cup").
Events had been set in motion: an IYA2009 song was destined to be created. Says Michael, "I went to books-a-million, the library, and the internet looking for ideas and put together this song."
His aim was make the title-phrase into a catchy, musical chorus that would stick in people's minds. In Michael's own words, "this song is a fun way for children and adults to get interested in looking at the stars. I have footage of parents with their children at Patoka Lake [Birdseye, Southern Indiana U.S.A.] looking at the stars, and fantastic NASA and Hubble photographs. The music video has bugs and food in space which most kids are fascinated with."
All in all, it took Michael 11 months to get the song and video to its current state. He says, "I am in the process of adding a beautiful young lady ice skater to skate around Saturn's rings and I have put myself on a comet riding it like a horse. Then it will be complete."
Michael is open to the idea of creating another astronomy song, and will listen to any ideas that are pitched his way. During IYA2009 he hopes that people will see how much fun it is to learn about the Universe, and not be discouraged by light pollution. He would also like to highlight that "stargazing is also for girls!"
IYA2009 song: http://www.astronomy2009.org/resources/multimedia/audio/detail/IYoA2009/
IYA2009 Video: http://www.youtube.com/watch?v=vTXPCxKFFaQ
I'm Not a Bug Squasher: http://www.youtube.com/watch?v=rS0w6HuVWos
The IYA2009 Secretariat has obtained the exclusive lyrics to the song, should any children (or adults) wish to learn them. All IYA2009 supporters are encouraged to sing along.
Spaced Out!
[Chorus]:
International Year of Astronomy 2009
International Year of Astronomy 2009
Have you ever dreamed of ice skating all around Saturn's rings,
Put a saddle on a comet, joy-ride 'til you pull on the reins.
It sounds nonsensical, but seriously we can do remarkable things,
Be an astronaut, take a trip to Mars or go telescoping.
[Chorus]
The Universe is yours to discover, explore the mystery,
Invite friends, go star-hopping, have a festivity.
Refraction reflection, telescopic connection, to the stars,
And after five, we use clock drive, to track the stars, Jupiter and Mars.
[Chorus]
The Universe is yours, to discover, go observe, go uncover,
There's bugs and butterflies, ants and owls, seagulls and eagles, there all spaced-out.
It's an insect-bird, interstellar-creature place,
It's a fine-art show, there's even food-stuff in space.
There's the cotton candy nebula, the bubble and the gum, the pencil and the spirograph, light years past the Sun,
The cat's paw nebula, the mice galaxy, the beehive cluster, space-art gallery.
There's the dragonfly cluster, the pancake galaxy,
The pelican nebula, come on kids and see.
[Chorus]
You must get away from city light, away from the glare, just a few miles out 2000 stars will appear.
[Chorus]
Remember stargazing is for everyone to enjoy,
It's for children, it's for grown-ups, it's for girls and boys.
[Chorus]
And don't forget black holes, 'cause they're out of sight.
[Chorus]
Written by Michael A. Davis
Search IYA2009 Updates
---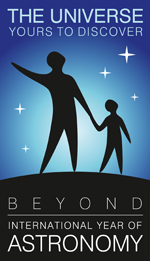 National Nodes: 148
Organisational Nodes: 40
Organisational Associates:33
National Websites: 111
Cornerstone Projects: 12
Special Task Groups: 11
Special Projects:16
Official Products:8
Media Partners:22