IYA2009 News Round-up
2 October 2009
All hail Sky & Telescope, for they have gone and done good by writing an article about the upcoming astronomy-fest that is Galilean Nights. Penned by Kelly Beatty, he gets the main points across: observe between 22 and 24 October, organize (organise) an event, register it, enter the photo competition. SORTED.
Examiner.com has an article aimed at the home-school market of Denver, U.S.A, but the educational tips and tricks are applicable to all those wanting to help children make the most of IYA2009. The constellation flashlight (torch) in particular sounds like it's worth a go.
Where do discoveries begin? The National Science Foundation, according to their tagline. Let's give them the benefit of the doubt, as they've made an excellent article and video about the Universe Quest project. This venture taught a group of girls all about astronomy during a week-long summer camp. There are some good quotes along with the message that building confidence in science, engineering, technology and math (maths) is definitely worthwhile.
Let's wheel back round to Sky & Telescope, as they have another story worth flagging up. The World At Night (TWAN) superstar Babak Tafreshi is joint-winner of the 2009 Lennart Nilsson award, given for outstanding work in scientific photography. TWAN is an IYA2009 Special project, and Babak is its founder. He also serves as a member of the Board of Trustees for TWAN's parent organization (organisation), Astronomers Without Borders. Nice one, Babak.
The Time of India often writes about IYA2009-related stories, and they've not disappointed this week. The ancient observatory of Jantar Mantar is moving ever-closer to becoming an UNESCO World Heritage Site, after an official team of representatives "did the round of the monument." Doesn't sound very official or thorough, but hey. The article says that getting this far in the selection process is very difficult, but IYA2009 has helped a lot. So that's nice.
Joburg has taken a moment to look at the stars this week and encourages all residents of Johannesburg to do the same. It's a fairly detailed article, and certainly worth perusing as it covers many aspects of IYA2009. So be sure to CLICK.
That's your lot. If you're hungry for more, hunt down news stories in your own language from local sources, and gorge until satisfied.
Search IYA2009 Updates
---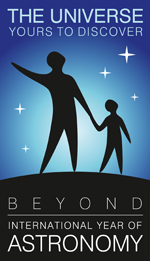 National Nodes: 148
Organisational Nodes: 40
Organisational Associates:33
National Websites: 111
Cornerstone Projects: 12
Special Task Groups: 11
Special Projects:16
Official Products:8
Media Partners:22