Probes set to crash into the Moon and unveil lunar secrets
9 October 2009
A NASA mission to study the Moon is about to reach its final stage. First, a piece of rocket around the size of a car will smash into the lunar surface at twice the speed of a bullet, hurling debris above the impact. Next, a spacecraft will follow the rocket in, analysing the contents of material thrown up before also crashing into the surface. This ambitious mission, called the Lunar Crater Observation and Sensing Satellite (LCROSS), will impact at 13:31 CET on 9 October.
The idea behind this grand plan is to search for material, including water, which may be hidden in or just below the Moon's surface. This would have likely been delivered by comet impacts long in the past, and remained sheltered in shadowy lunar craters. If a location with ice is found, it will be a prime location for a future Moon base.
Professional astronomers will be observing the impact using instruments such as the NASA / ESA Hubble Space Telescope. They will be joined by amateurs around the world who will also be looking skyward with their telescopes (10-inch diameter and above is required), hoping to catch a glimpse of this exciting moment.
LCROSS website, with countdown timer: http://www.nasa.gov/mission_pages/LCROSS/main/index.html
Watch the impact on NASA TV: http://www.nasa.gov/ntv
Observing tips for amateur astronomers: http://lcross.arc.nasa.gov/observation.htm
Search IYA2009 Updates
---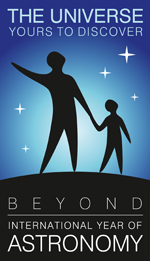 National Nodes: 148
Organisational Nodes: 40
Organisational Associates:33
National Websites: 111
Cornerstone Projects: 12
Special Task Groups: 11
Special Projects:16
Official Products:8
Media Partners:22