An evening with Galileo in Iraq
11 October 2009
25 September 2009 was an historic day for Iraq. In the middle of one of most popular parks in Erbil city, an astronomy event was held after the holy days of Eid Al-Fitr. This was project between the Amateur Astronomers Association of Kurdistan (AAAK) and one of the most active cultural centres in Kurdistan, known as Future Center for the Youth Issues (FCYI).
Activities began between 04:40 and 10:30 pm on 25 September with an exhibition, traditional presentation and songs, and then an AAAK show. Using an 8-inch Meade LX200 telescope supported by a solar filter, hundreds of people were very lucky to see new sunspots.
After the Sun set behind a very clear horizon with steady winds, the half Moon (just like Galileo saw with his small telescope) began to shine brightly. The cratered lunar terrain fascinated and charmed everyone regardless of age or language.
Attentions were then turned to Jupiter and its marvellous Galilean satellites. It was very easy to see Jupiter and its belts with lower magnification powers, and new observers frequently asked whether the sight seen through the telescope was real or just an illusion!
There were a great many attendees as guests from the USA, Japan, and Bangladesh joined with hundreds of Iraqi Arab citizens from Baghdad, Basrah, Slahaddin, Naseryah, Najaf, Karbala, Mosul and Kirkuk to Erbil city.
Based on a report by Azhy Chato Hasan.
Search IYA2009 Updates
---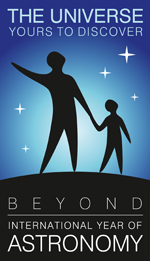 National Nodes: 148
Organisational Nodes: 40
Organisational Associates:33
National Websites: 111
Cornerstone Projects: 12
Special Task Groups: 11
Special Projects:16
Official Products:8
Media Partners:22