Sri Lankan IYA2009 Star Party exceeds expectations
12 October 2009
Commenced in 2004, "Star Party" is an observational astronomy competition where student groups from different parts of Sri Lanka compete. Organised by the astronomical societies of Ananda College, Colombo and Mahamaya Girls' College, Kandy, it is held annually and has gained an excellent reputation over the years. Star Party 2009 was named as the main IYA2009 event in Sri Lanka. It was a huge success, attracting more than 50 groups.
The programme kicked off with a message about the importance and significance of IYA2009, and how proud the students are to continue the event for the 6th time. A workshop was held alongside the competition. This covered the basics of observational astronomy and served mainly to prepare beginners so they can participate competitively next year.
Participants were taken to a special observing site where Jupiter took centre stage, supported by a range of celestial objects and constellations. This was unforgettable for many students, especially those who had never before experienced the Universe in such a first-hand manner.
Awards were distributed the next day:
Champions: De Mazenod College, Kandana
Runners-up: Sangamitta College, Galle
Theoretical Round & Spot Test: Dharmaraja College, Kandy
Solar & Observational Astronomy: Royal College, Colombo
Constellation & Deep Sky Observation: Sangamitta College, Galle
Moon Mapping: De Mazenod College, Kandana
Planetary Observation: De Mazenod College, Kandana
This year the Star Party enjoyed international attention thanks to features in the Cosmic Diary, IYA2009, Cloudy Nights Telescopic Review, Portal to the Universe, Sidewalk Astronomers, and in many other websites, forums, and e-mail listings.
Star Party has become the foremost annual event in the Sri Lankan astronomy community, encouraging many student groups to study and sharpen their observation skills.
Based on a report by Thilina Heenatigala, IYA2009 Sri Lanka National Node Secretary. See the original text and photographs here: http://thilinaheenatigala.blogspot.com/2009/10/iya2009-sri-lanka-starparty2009.html
Search IYA2009 Updates
---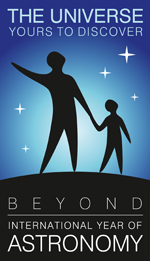 National Nodes: 148
Organisational Nodes: 40
Organisational Associates:33
National Websites: 111
Cornerstone Projects: 12
Special Task Groups: 11
Special Projects:16
Official Products:8
Media Partners:22