Infinite suns, innumerable worlds: a special event held in Rome
30 October 2009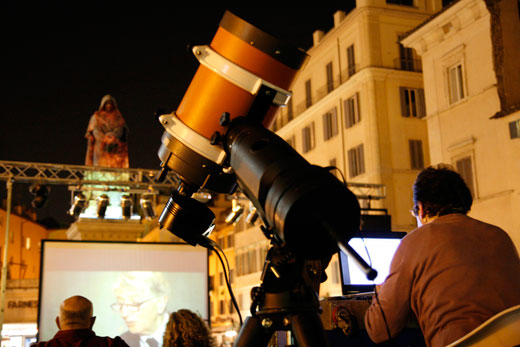 "Infinite Suns exist. Innumerable worlds orbit those Suns, like the seven planets orbit our Sun. These worlds are inhabited by living beings". With these words, in 1584 Giordano Bruno foresaw by centuries one of the most fascinating frontiers of current research in astrophysics, the search for extrasolar planets, and also because of this idea he was accused of heresy. Just in the same place where the great Italian philosopher was burned at the stake, the historic square Campo dei Fiori, the Planetarium of Rome presented a public event called "Infinite Suns, Innumerable Worlds" on 8 October from 8:30pm to midnight.
More than 1000 people crowded Campo dei Fiori to attend. The evening started off with the evocative scene of the fire enveloping the statue of Giordano Bruno and a reconstruction of his theories and his ill fated story by journalist Corrado Augias and music by Fabio Tricomi. Afterwards the focus lifted off from the statue up to the sky in order to detect, even among the lights of Rome, the new Suns.
Throughout the evening the public was involved in an ambitious astronomical observation: the detection of the transit of a distant extrasolar planet, TrES-3b, in front of its Sun's disk. In a symbolic way, this observation gives finally justice to Giordano Bruno, marking the climax of the International Year of Astronomy 2009 in Rome.
The event was realised with the contribution of INAF - National Institute for Astrophysics, the patronage of the Municipality of Rome and the Sovrintendenza ai Beni Culturali of Rome. Special thanks to ACEA spa for switching off the public illumination and to Auriga spa for providing the telescopes for public observing.
Planetarium website: http://www.planetarioroma.it/
Search IYA2009 Updates
---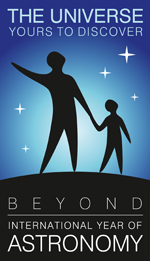 National Nodes: 148
Organisational Nodes: 40
Organisational Associates:33
National Websites: 111
Cornerstone Projects: 12
Special Task Groups: 11
Special Projects:16
Official Products:8
Media Partners:22