Galilean Nights Update
2 November 2009
We would like to start by saying a very big thank you for the amazing work that you have all carried out in putting on your events. With more than 1250 events in almost 90 countries, your work and outreach activities are what made Galilean Nights as successful as it was, so congratulations to all of you for bringing astronomy to so many people.
Now that Galilean Nights is officially over, we would like to hear from all of you about how your events went. Even if your event was affected by bad weather - tell us what alternative activities took place or simply tell us if the event had to be cancelled. Please go to the website and submit a short report:
http://www.galileannights.org/event_report.html
The reports will be an opportunity to share your stories and will be used to help us to evaluate how the whole project went. They will also be used to select a few events for some awards: Outstanding Galilean Nights Event; Largest number of registered events held by a single group; Highest attendance at a single registered event; Community outreach; Most innovative event; Best "Plan B" for those bad weather afflicted events.Please submit reports by Monday 16th November 2009.
Thank you all once again for being part of Galilean Nights, we look forward to hearing all of your stories and wish you all well with your outreach events of the future.
Best wishes,
Pedro Russo
IYA2009 Coordinator
Catherine Moloney
Galilean Nights Coordinator
Search IYA2009 Updates
---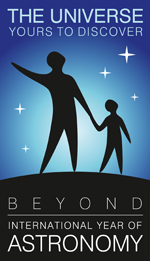 National Nodes: 148
Organisational Nodes: 40
Organisational Associates:33
National Websites: 111
Cornerstone Projects: 12
Special Task Groups: 11
Special Projects:16
Official Products:8
Media Partners:22