Puerto Rico Symphony Orchestra performs "The Planets" by Gustav Holst in special IYA2009 concert
4 November 2009
The Puerto Rico Symphony Orchestra under the direction of Roselín Pabón has perfomed the concert "The Planets". Each movement was accompanied by the presentation of images of the planets which the public could view on two screens set above the musicians. The selected images included samples from the "From Earth to the Universe" (FETTU) Cornerstone project. The superb performance of the orchestra, the illumination and the selected images conveyed the emotions of each movement and transported the audience into outer space. The concert took place at the Rafael Mangual Coliseum at the Mayagüez campus of the University of Puerto Rico on Saturday 10 October at 7:00 pm, and was free of charge.
Members of the "Sociedad de Astronomía del Caribe" (amateur astronomy association) and members of the "Starry Messengers" (college level student volunteers for IYA2009-Puerto Rico) greeted the public as they arrived and distributed the programme for the concert and a commemorative lithograph of the planets.
Among the invited guests was Dr. Orlando Figueroa, past Director of the Mars Exploration Mission (NASA) and who is currently the Director of Applied Engineering and Technology at NASA, Goddard.
This event was organised by the IYA2009-Puerto Rico node, the Puerto Rico Space Grant consortium and the University of Puerto Rico, Mayagüez campus.
Links for further information:
http://www.astronomy2009pr.org/
http://www.flickr.com/photos/37028095@N07/sets/72157622599138856/
http://www.sociedadastronomia.com/
Search IYA2009 Updates
---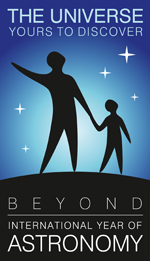 National Nodes: 148
Organisational Nodes: 40
Organisational Associates:33
National Websites: 111
Cornerstone Projects: 12
Special Task Groups: 11
Special Projects:16
Official Products:8
Media Partners:22