From Earth to the Universe Update
5 November 2009
To date, the response to the From Earth to the Universe project has been outstanding. As of October 2009, there have been or are planned over 250 separate FETTU exhibitions in more than 65 countries (on every continent except Antarctica). Millions of people have been exposed to the wonders of astronomy.

The wide range of FETTU exhibits has reflected the diversity of the communities and countries in which it has landed. From public parks to airports to art festivals to shopping malls to even prisons, FETTU has found its way into incredibly exciting places (please see http://www.fromearthtotheuniverse.org/table_events.php for a full list and beautiful photos at http://www.fromearthtotheuniverse.org/event_photos.php).

Suffice it to say, FETTU would not have happened if it were not for those included in this email and hundreds of others -- from the local organizers, to the funding organizations, and everyone in between -- who employed creativity and passion for bringing the wonders of the cosmos to everyday people.

Based on the preliminary evaluations currently underway, this project -- the first of its kind as a large-scale, worldwide astronomy outreach in non-traditional locations -- has been a success. We will soon be presenting some of the early findings about the impact of the exhibit as well as the on-going efforts for 2010 and beyond.
More information: http://www.fromearthtotheuniverse.org/
Search IYA2009 Updates
---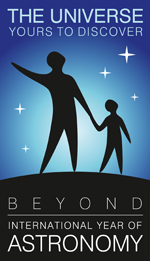 National Nodes: 148
Organisational Nodes: 40
Organisational Associates:33
National Websites: 111
Cornerstone Projects: 12
Special Task Groups: 11
Special Projects:16
Official Products:8
Media Partners:22