Telecommunication conference now registering attendees
18 November 2009
The conference "Wireless, Telecommunication, Spare: Frontier Research from Marconi to the Future" will be held in Brussels on 3 December 2009. Organised by the Embassy of Italy, it will celebrate the first centenary of the award of the Nobel Prize for Physics to Guglielmo Marconi.
The conference is multidisciplinary and will touch upon the fields of research related to Marconi's inventions and their further developments. It will start with telecommunications and proceed into astronomy and space research.
The speakers are farsighted scientists and managers, including the President of the Italian National Research Council and the Secretaries General of the Belgian FRS and FWO; scientists from academia; and the most important European companies in the sector of telecommunication and space research.
For more information and to register, please e-mail: scientifico.ambbruxelles@esteri.it
Search IYA2009 Updates
---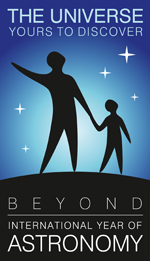 National Nodes: 148
Organisational Nodes: 40
Organisational Associates:33
National Websites: 111
Cornerstone Projects: 12
Special Task Groups: 11
Special Projects:16
Official Products:8
Media Partners:22