Romanian IYA2009 enthusiasts release new web pages
20 November 2009
The Romanian Society for Meteors and Astronomy (SARM) has launched five new web pages in its international super-project (led by Andrei Dorian Gheorghe coordinator, Valentin Grigore SARM President, and Florin Stancu web designer), continuing the sky chronology of 2009 through astrophotography, artworks, astronomical poetry, journalism, mini-dramas, humorous debates, and essays, including framing pages, pillar pages and special pages.
Astronomers and writers from all over the world have contributed to this project (still open for the 4th Quarter issue page), which also contains:
- Pages or chapters about activities and dedications for official IYA2009 projects: The World At Night, Dark Skies Awareness, 100 Hours of Astronomy, Galilean Nights, She Is An Astronomer, Cosmic Diary, Universe Awareness, From Earth to the Universe, Galilean Satellites, Star Peace.
- Chapters dedicated to great astronomers and international astronomical organisations.
- Pages about the most important international events of astronomical poetry in 2009, conceived around the International Meteor Conference of the International Meteor Organization in Porec (Croatia), and SARM's Galilean Nights festival of astronomy in Targoviste (Romania).
See these pages via http://www.cosmopoetry.ro/astropoetrytoiya/
Search IYA2009 Updates
---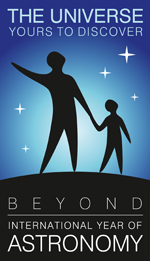 National Nodes: 148
Organisational Nodes: 40
Organisational Associates:33
National Websites: 111
Cornerstone Projects: 12
Special Task Groups: 11
Special Projects:16
Official Products:8
Media Partners:22