News round-up, 20 November 2009
20 November 2009
Have you heard the rumour? Have you have you have you? It's the talk of the town: the IYA2009 news round-up is here!
Well done Galloway Forest Park, for achieving Dark Sky status. BBC Online has commendable coverage, including a video. You know the publicity machine is doing its job when BBC Online includes a video. It features an interview with Steve Owens, from the UK IYA2009 effort. Says Steve, "you step out of your car on a dark night and the car just vanishes behind you." Sounds like thieves are making use of the darkness, too. The Galloway story even inspired an article for BBC Magazine. Steve Owens gets quotes in that, too. All hail Steve, the Media Machine! Alas he doesn't feature in the Daily Mail Online story. Next time aim for the hat trick, mate.
To The American Association for the Advancement of Science next, as they're making the world aware of their Caribbean Division's conference. Public engagement was a strong theme so it's only fair that they gave talks on IYA2009. I wonder if these were more or less popular than the "flashing colorful slides of Martians".
India is a good place to be now as an IYA2009-inspired astro-fortnight is kicking off. Press Trust of India has the details, but here's a synopsis: it had a scintillating start (good word, must use more often), Galileo is the main theme, and there are exhibitions and concerts.
Still in that part of the world, Indian Express reports that Punjab University is organising astronomy and astrophysics workshops, happening NOW. Speakers are delivering lectures on observational astronomy, star formation and evolution, galaxies, and practical astronomy. Run along to it if you're close by.
Star Bulletin was star struck this week as they've been investigating amateur astronomy in Hawaii. They've obviously taken it seriously, as it's a lengthy article and has two photos taken specially. Read it all and show that you appreciate the effort. A bit like what you should be doing with these round-ups.
STORY OF THE WEEK! "The planetarium at Raritan Valley Community College is featured in an episode of Cake Boss to be aired on Monday, Nov. 23 at 10:30 p.m. on the cable television network TLC. In the episode, 'Cake Boss' Buddy Valastro and his team create a space-themed cake at Carlo's Bake Shop in Hoboken for a celebration of the International Year of Astronomy at the RVCC planetarium." Thanks to nj.com for that gem.
Now if you'll excuse me, I'm off to find out how to become a "cake boss". Until the next scintillating round-up, keep checking local sources for stories in your own language.
Search IYA2009 Updates
---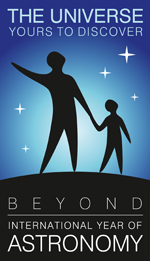 National Nodes: 148
Organisational Nodes: 40
Organisational Associates:33
National Websites: 111
Cornerstone Projects: 12
Special Task Groups: 11
Special Projects:16
Official Products:8
Media Partners:22