European university students to carry out hypergravity and microgravity experiments
4 December 2009
The European Space Agency has launched its first edition of two new educational programmes: "Spin Your Thesis!" and "Drop Your Thesis!". Through these programmes, several teams of university students throughout Europe will be given the opportunity to carry out experiments in hypergravity and microgravity.
"Spin Your Thesis!" will enable students to perform hypergravity experiments in the Large Diameter Centrifuge (LDC) in ESTEC, the Netherlands. The LDC allows samples to be exposed to acceleration forces up to 20 times Earth's gravity. Each of the four arms can support two gondolas, with a maximum payload mass of 80kg per gondola.
Students from around Europe are invited to design - as part of their syllabus - a scientific or technology experiment that requires hypergravity for minutes, few hours or even days. The submission deadline for proposals is 21 January 2010. A Review Board including ESA and ELGRA experts will select four teams to further develop their experiments and eventually perform them during ESA's first Student Large Diameter Centrifuge campaign in the spring or summer of 2010. This campaign will last two weeks, with two teams using the equipment each week.
For "Drop Your Thesis!" students will develop microgravity experiments to be performed in the ZARM Drop Tower Facility, in Bremen. This facility is one of the most sophisticated and high-quality research centres of its kind in Europe and boasts a 146m high tower that gives experiments up to 9.3s of microgravity.
Student teams that are interested are requested to submit their proposals by 1 March 2010. The proposals received will be evaluated by a Review Board including ESA and ELGRA experts that will select the winning teams. These teams will perform their experiments during ESA's 2nd Student ZARM Drop Tower Campaign, to be held in Bremen for three weeks in the autumn of 2010.
For both programmes, the selected teams will be supported by the ESA Education Office, ZARM or LDC engineers and members of ELGRA as Mentors. The ESA Education Office will offer financial support to cover part of the cost of the experiments, travel and accommodation.
Teams from ESA Member States and Cooperating States are encouraged to register on the ESA Education Office's project portal and upload their proposals for the programmes.
For more information, please visit: http://www.esa.int/SPECIALS/Education/
Search IYA2009 Updates
---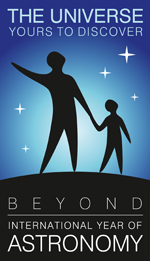 National Nodes: 148
Organisational Nodes: 40
Organisational Associates:33
National Websites: 111
Cornerstone Projects: 12
Special Task Groups: 11
Special Projects:16
Official Products:8
Media Partners:22