See the Universe in multiple wavelengths with Chromoscope
5 December 2009
Chromoscope is an accessible, easy tool that anyone can use to explore and understand the sky at multiple wavelengths. It has been created using public-domain datasets from a number of all-sky astronomy projects. It lets you easily move around the sky and fade between wavelengths using a simple user-interface to illustrate the similarities and differences between what is visible at each wavelength.
There are currently seven included: gamma ray (Fermi), X-ray (ROSAT), H-alpha (WHAM), optical (DSS), infrared (IRAS),microwave (WMAP) and radio (Haslam). You can click on the credit information, shown at the bottom-right of the Chromoscope screen, to learn more about each survey.
Chromoscope can even be downloaded so it can run in a browser without an internet connection.
Explore the Universe here: http://www.chromoscope.net/
Search IYA2009 Updates
---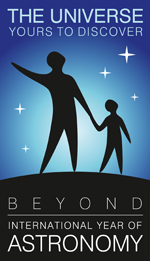 National Nodes: 148
Organisational Nodes: 40
Organisational Associates:33
National Websites: 111
Cornerstone Projects: 12
Special Task Groups: 11
Special Projects:16
Official Products:8
Media Partners:22