European Fete de la Science focuses on astrobiology for IYA2009
4 December 2009
The European Fete de la Science 2009 has been devoted to the origins of life and of the Universe. The French effort consisted of at least 10 events (conferences, activities for younger public, special exhibitions, astronomy cafes, games, and more) in 95 departments, including 10 large conferences for the general public. Special emphasis was given to astrobiology, with about 50 different events on the topic held throughout France.
Attendance figures proved to be impressive. For the 10 large AMA09 conferences in main cities, there were around 3000 people. 1550 students participated in six astrobiology conferences for high-school pupils in Paris. For the CNES Astrobiology small meetings with the public, about 2500 people attended over the course of the week.
For more information (in French), please visit http://www.astronomy2009.fr/ Specific details are available on the news section, "Du 16 au 22 Novembre, Fête de la science".
Search IYA2009 Updates
---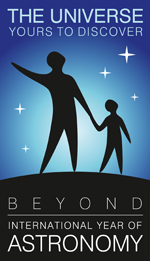 National Nodes: 148
Organisational Nodes: 40
Organisational Associates:33
National Websites: 111
Cornerstone Projects: 12
Special Task Groups: 11
Special Projects:16
Official Products:8
Media Partners:22