IYA2009 News Round-up
4 December 2009
THE NEWS doesn't slack off on Friday afternoons, so we can't either.
30 telescopes have been donated to students in the Greater Victoria school district, reports the Times Colonist. Gifted by the Victoria Centre of the Royal Astronomical Society of Canada, the description makes them sound like Galileoscopes, but that may be wishful thinking. The next headline for the area reads "Grants offered to local farmers". Maybe they'll use the cash for telescopes, too.
Let's all shake the Le Défi Media Group's hand, because they've written about an astronomy exhibition in Mauritius, but *begin* the article with THREE (3) paragraphs about IYA2009. Take note, all other publications in the world. The exhibition will run until mid-2010, and the Minister of Industry, Science and Research was present for the unveiling. Mauritius, you've done well!
Is there life on nearby worlds? No use asking me, I don't know. But why not attend UNH Durham's Physics Department lecture series about life in our Solar System, if you really want to know the answer. Fosters has details, including WHEN, WHERE, and whether LIGHT REFRESHMENTS will be available.
Run along now, to the Bournemouth Daily Echo. This British town was home to famous astrophysicist Sir Fred Hoyle. Councillor Ron Cooper wanted a blue plaque to be placed by Hoyle's former home so people would know the significance. This was put on the back burner, but Bournemouth's mayor has now announced that it will be unveiled on Thursday, so the event will occur during IYA2009. That's a result.
Zenit is the world seen from Rome. What have they been seeing this week? A Galileo-themed conference held by the Pontifical Lateran University. It's part of IYA2009 celebrations, and aims to clear up some myths that surround Galileo and his relationship with the Church.
If you want to parteeeee, then head to Germany. At least, that's the message that Canada.com is spreading. Just outside Essen is an exhibition called Out of this World, apparently to celebrate "Germany's Year of Astronomy". We've been dramatically downsized? Must have missed that e-mail. The article says "Suspended in the middle of the darkened Gasometer is the world's largest replica moon with a diameter of 25 metres." So if you want to see the world's largest replica Moon in the middle of a darkened Gasometer, get there NOW.
Search IYA2009 Updates
---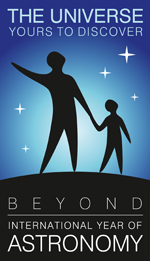 National Nodes: 148
Organisational Nodes: 40
Organisational Associates:33
National Websites: 111
Cornerstone Projects: 12
Special Task Groups: 11
Special Projects:16
Official Products:8
Media Partners:22