Journey through the Universe
7 December 2009
Journey through the Universe is a national science education initiative that engages entire communities-students, teachers, families, and the public-using education programmes in the Earth and space sciences and space exploration to inspire and educate. The initiative engages communities in sustained science, maths, and technology education, and is a celebration of exploration and the joys of learning.
Developed by the National Center for Earth and Space Science Education (NCESSE), Journey through the Universe provides a window on the true nature of science and the lives of modern-day explorers, with special emphasis on not just what is known about our world and the Universe but how it has come to be known. It is an approach that reveals the very personal means by which researchers ask questions of the world and empower themselves to create a pathway to an answer.
The initiative includes local programming for thousands of students and families, grade K-12 lessons and curriculum support materials, grade K-12 educator training, and ongoing support from scientists and educators nationally in both science content and pedagogy for the classroom. The communities integrate these resources into their existing science, mathematics, and technology education programming in both formal and informal science education venues. The result of this partnership is programming that reflects the strengths and capabilities of the community, and provides access to resources that would otherwise be unavailable.
For more information, please see: http://www.gemini.edu/journey
Search IYA2009 Updates
---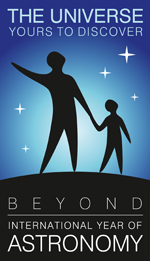 National Nodes: 148
Organisational Nodes: 40
Organisational Associates:33
National Websites: 111
Cornerstone Projects: 12
Special Task Groups: 11
Special Projects:16
Official Products:8
Media Partners:22