Romania is officially closing the International Year of Astronomy 2009 through sets of activities
9 December 2009
Symposium, conferences, awards ceremonies, public lectures, gastronomy fair, science cafe are all part of the activities dedicated to mark the officially closing of the International Year of Astronomy 2009 in Romania.


Activities started at Targoviste on November 27 through the national symposium "Love the Cosmos" organized by the SARM. Representatives of the astronomical associations, astronomical observatories, planetarium, junior and high schools, universities and informal groups have presented the final results of the projects 100 Hours of Astronomy and Galilean Nights. Worth to mention that they organized also the astrophotography exposition and the National Astronomy Conference for the Youth ASTRO 2009-Discover the Universe!


Each student from the 2009 international Olympic astronomy and astrophysics teams (all of them awarded from gold to bronze medals) have been awarded during an event that was taken place at the "Henri Coanda" Aeronautical College, Bucharest. It was the same time when the winners of the international essay contest Cassini were mentioned and presented to the mass media representatives and public. The event attracted students, teachers, professors, educators, science managers, scientists, professional and amateur astronomers, journalists, and public. All of them shared a piece from a giant cake and a cup of champagne. (December 4, 2009).

Dr. Zadig Mouradian, astronomer at Paris Observatory, had a talk about the couple Sun – Earth at the French Institute from Bucharest. The audience was made of college students, teachers, scientists, professors, and general public. (December 8, 2009)
"The Sweet Planet – Astronomy and Gastronomy" or gastronomy fair dedicated to astronomy is part of the Minorities Gala that includes also music and dance. (December 10, 2009).


The science café is about to take place at the British Council and is organized by Ziarul Stiintelor (The Science Newspaper), the official mass media partner of the IYA2009. (December 18, 2009)
Search IYA2009 Updates
---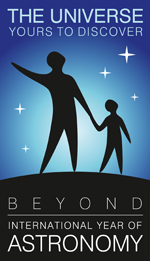 National Nodes: 148
Organisational Nodes: 40
Organisational Associates:33
National Websites: 111
Cornerstone Projects: 12
Special Task Groups: 11
Special Projects:16
Official Products:8
Media Partners:22