Belarus is closing the International Year of Astronomy 2009
10 December 2009
The exhibition "Astral painting" by Belarusian artist Victor Vasiukevich takes place on December, 12 in Minsk Planetarium. It's the first time Minsk Planetarium has set an art exhibition and it's truly a unique practice to mark the closing of the IYA 2009.
Belarusian art has a rich history in depicting space. Yazep Drazdovich (1888-1954) is considered to be one of the initiators of the Cosmos topic in world art. Contemporary artist Victor Vasiukevich upholds the traditions of his forerunners and works in the style of abstract expressionism.
In his paintings Victor Vasiukevich tries to reflect the harmony of the Universe. He shows space as an ultimate world created by God, the world without confrontation and struggle. That's why Victor Vasiukevich's cosmic canvases seem to be spiritualized, covered with light and love.
The exhibition is on display until January 10, 2010.
Gallery of Victor Vasiukevich's paintings: http://www.bellabelarus.com/en/component/option,com_jsgallery/mode,by_artist/artist_id,47/Itemid,49/
Search IYA2009 Updates
---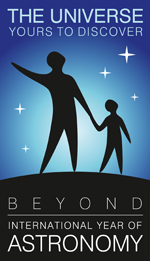 National Nodes: 148
Organisational Nodes: 40
Organisational Associates:33
National Websites: 111
Cornerstone Projects: 12
Special Task Groups: 11
Special Projects:16
Official Products:8
Media Partners:22