IYA2009 comic to be turned into a TV series
12 December 2009
After many exhibitions and conferences, the comic "The Lives of Galileo" has inspired a series of six 12-minute TV shows for Swiss-French TV called "Dessine-moi les étoiles" (Draw me the stars).
With an astronomer (Alain Maury, live from the Atacama desert), a philosopher (Bilal Ramadan) and two children, Fiami, the comic's author, tells the six chapters of astronomy presented in the "Lives of Galileo". It is a new way to present astronomy, mixing humour, drawing, science and philosophy.
The first showings will be on TSR2.
23.12.09 at 12.44
24.12.09 at 12.43
25.12.09 at 13.19
30.12.09 at 11.36
31.12.09 at 11.34
01.01.10 at 12.22
More good news comes from Geneva's newspaper "La Tribune de Genève" which is publishing half of the comic.
Visit "The Lives of Galileo"'s official website here: http://www.fiami.ch/
Search IYA2009 Updates
---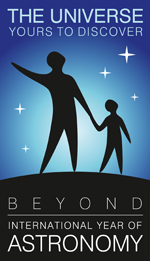 National Nodes: 148
Organisational Nodes: 40
Organisational Associates:33
National Websites: 111
Cornerstone Projects: 12
Special Task Groups: 11
Special Projects:16
Official Products:8
Media Partners:22