StarPeace Newsletter
4 January 2010
Happy New Year!
The winter came and the International Year of Astronomy has gone. For sure it is not the end of StarPeace. IYA 2009 was a beginning for peace and astronomy promoters around the world. We have new plans for 2010 and beyond. Below is a short text about StarPeace achievements during IYA 2009;
StarPeace born in October 2008 in purpose of promoting knowledge of astronomy in rural and border areas, especially between young people, to show them there is only one Earth and we should help each other to protect it, that's why we need to be in peace.
After one year of hard work, now 37 active groups from 28 countries are members of StarPeace. Many events are organized in different countries in cooperation with ambassadors of StarPeace around the world
One of the main goals of StarPeace is to make a network of groups from different countries in all continents, to promote science and peace, and now it happened. Furthermore, StarPeace cooperates with Environmental projects to inform people about importance of environmental conservation.
Recent StarPeace events around the world
Below is the link to the video clip from StarPeace Philippines-Indonesia as seen from Astrocamp Observatory SMBY Park in Philippines on December 4:
http://www.justin.tv/clip/3721457b97b90af2
StarPeace built bridges between 4 countries on World Science Day
Four StarPeace clubs in four neighboring countries Azerbaijan, Iran, Iraq and Syria held joint star parties on World Science Day, November 10.
http://www.starpeace.org/En/News/52/Default.aspx
StarPeace has participants from all continents except Antarctica! To check StarPeace clubs on 6 continents go to http://www.starpeace.org/En/Clubs/Default.aspx
Latest StarPeace news around the world
As we are toward the end of International Year of Astronomy 2009 StarPeace clubs all around the world are holding the closing ceremony of IYA 2009 and StarPeace project in this year, although it is not the end of StarPeace project.
In Iran, Iraq, Pakistan, Nepal, India, Oman and other countries participated in StarPeace public star parties, public sessions and parties were held as the closing ceremony of IYA 2009 and a new beginning for StarPeace.
During "World Science Day for Peace and Development" ceremony in Iranian National Commission for UNESCO, StarPeace was presented as one of the selected projects which its goals are aligned with UNESCO main goals as promoting science and peace.
StarPeace in Media
IMRADIO: StarPeace Song "Stars in the Sky" by Patty Rayfield is being played on IMRADIO every day.


UNESCO: The StarPeace clubs cerebrated World Science Day by going to their borders and organizing a joint public star party with neighboring countries. Syria, Iraq, Iran and Azerbaijan are four countries who participated in this programme.
http://www.unesco.org/science/psd/wsd09/event5_en.shtml
Search IYA2009 Updates
---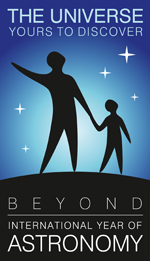 National Nodes: 148
Organisational Nodes: 40
Organisational Associates:33
National Websites: 111
Cornerstone Projects: 12
Special Task Groups: 11
Special Projects:16
Official Products:8
Media Partners:22