Big Dipper to Southern Cross: Remote Observing for All
5 January 2010
Join others from around the world in sharing our sky -- north and south -- LIVE on 8 and 10 January

The southern Milky Way can be so bright that on a clear moonless night it will cause shadows, yet it is something people living in the northern hemisphere only hear stories of. In the same way, the beauty and objects of the northern sky are a mystery to southern residents.
Big Dipper to Southern Cross brings these two hemispheres together -- truly One People, One Sky.
For this project there will be two telescopes -- one in the northern hemisphere and one in the south -- on two different nights. No experience is needed. This is a chance to watch as an experienced telescope operator and guide show how they capture the wonders of the night sky.
Join other members of AWB Affiliates around the world. Chat will be available between participants and with the telescope operator. Join in or just watch.
See the AWB Big Dipper to Southern Cross web page for more information.
Search IYA2009 Updates
---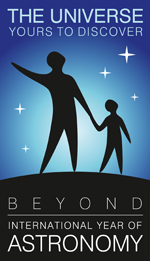 National Nodes: 148
Organisational Nodes: 40
Organisational Associates:33
National Websites: 111
Cornerstone Projects: 12
Special Task Groups: 11
Special Projects:16
Official Products:8
Media Partners:22