Celestron Celebrates Fifty Years of Optical Innovation
5 January 2010
Celestron is celebrating 50 years of successful telescope innovation throughout 2010. The company, founded in 1960 by electronics engineer, Tom Johnson, started as an astro-optical division of Mr. Johnson's aerospace electronics firm, Valor Electronics. While searching for a suitable telescope for his two young sons, Tom decided to build a telescope from scratch. Starting with a 6-inch reflector, he progressed to building increasingly larger and more sophisticated designs. Tom's hobby soon grew into a full-time business, offering Celestron Schmidt-Cassegrain telescopes in 4-inch to 22-inch models.
Tom's vision of building an affordable Schmidt-Cassegrain telescope system has evolved into an undisputed industry leading company in the telescope arena. Today, Celestron has grown to enjoy worldwide brand name recognition and a reputation for innovative, reliable optical equipment. "Celestron's 50th anniversary is a great milestone. When you sit down and consider what Tom Johnson accomplished, you can't help but be proud and impressed at his vision, leadership and innovation," said Joseph A. Lupica Jr., president and CEO of Celestron. "Today, Celestron employees carry on Tom's forward-thinking legacy."
Throughout the world, Celestron telescopes have become the "telescope of choice" for the consumer that can differentiate between brands. Major observatories, planetariums, colleges and universities worldwide use Celestron telescopes in their astronomy programs. Moreover, its solid and esteemed reputation in the scientific community has reached NASA, who selected Celestron's C5 telescope as the telescope to be taken on several space shuttle research missions. During the 2009 International Year of Astronomy, the White House held the first documented star party on the White House lawn. President Barack Obama and first lady, Michelle Obama, viewed celestial objects through a Celestron CPC 800.
Throughout 2010, Celestron invites you to visit our special 50th anniversary website where you will find an interactive timeline on Celestron's history and other notable events in the astronomical community. The website will also feature limited edition 50th anniversary products and apparel, as well as contests and giveaways to celebrate this special milestone. Celestron will also be releasing a 6 part documentary during 2010 entitled "The Path of Light." This documentary will give you a look back at Celestron's beginnings and move you forward through 50 years of Celestron's notable achievements in products, outreach and the astronomical community.
With 50 years under their belt, Celestron is looking toward the future, confident in continuing to focus on engineering innovation and design excellence in all of our product offerings. "We've been fortunate in our success over the past 50 years, and would sincerely like to thank our dedicated customers, dealers and employees for putting their trust in Celestron. We couldn't have done this without you," said Joseph A. Lupica Jr. "We have many plans ahead to show our support to the astronomical community, continue our dedication to grow astronomy and to engineer products that will be enjoyed for many years to come. It's going to be a very exciting year!"
Help us celebrate by visiting Celestron's 50th Anniversary Website www.celestron.com/50 and signing our guest book!
About Celestron
Since designing its first telescope in 1960, Celestron has grown to become the world's leading telescope maker, and enjoys brand name recognition for superior optics, outstanding design, and innovative technology. For five decades, Celestron has been recognized as a leading designer, manufacturer and importer of high-quality optical products including computerized and non-computerized telescopes, binoculars, spotting scopes, microscopes and related accessories. Celestron's innovative products continue to receive numerous industry and consumer media accolades, adding to an already impressive list that includes awards for product innovation from Reader's Digest, Popular Science, PC Magazine, Popular Mechanics, Sky & Telescope, the Consumer Electronics Association and more. Celestron sells and markets its products worldwide through a variety of specialty retail outlets and international distributors. Celestron is a privately held company with corporate offices and manufacturing facilities, in Torrance, CA. For more information about Celestron please visit http://www.celestron.com.
Celestron
Michelle Meskill
Marketing Manager
310-328-9560 ext. 205
Search IYA2009 Updates
---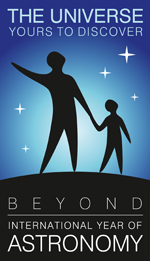 National Nodes: 148
Organisational Nodes: 40
Organisational Associates:33
National Websites: 111
Cornerstone Projects: 12
Special Task Groups: 11
Special Projects:16
Official Products:8
Media Partners:22