Musician's Illustrated Tribute to Saturn Arrives on DVD
15 January 2010
Art meets science: A fresh sultry, circular and sweeping piece of music -- called "Anillos" -- perfectly timed with breathtaking images of the planet Saturn and perfect for a large-screen television, is available now on DVD.
Originally, "Anillos" -- which mean rings in Spanish – was commissioned for a meeting of the American Astronomical Society's Division for Planetary Sciences, and the piece premiered at the group's annual meeting in October 2008, in Ithaca. It was composed by Roberto Sierra, Cornell professor of music, recently nominated for a 2010 Grammy Award for another composition, "Missa Latina."
Elizabeth Bilson, retired administrative director for Cornell's Center for Radiophysics and Space Research, had proposed an original musical piece for the 2008 conference. She had worked with Joe Burns, Cornell's Irving Porter Church Professor of Engineering and Professor of Astronomy, on the American Museum of Natural History's exhibit of images from NASA's Cassini-Huygens mission, and she wondered if those ethereal pictures of Saturn and its rings and moons -- which she described as "sheer aesthetic pleasure" -- might also inspire a work of music.
Bilson floated the idea to composer Sierra, Cornell's Old Dominion Foundation Professor in the Humanities. "I thought he would laugh at me," Bilson later confessed. Instead, Sierra took the challenge. With a selection of images from the Cassini mission and essays by 17th-century astronomer and musician Christiaan Huygens as his guide, Sierra composed the 10-minute-long, full-orchestra piece "Anillos."
The piece on this DVD was recorded at Cornell's Bailey Hall immediately after its premiere performance. It features Chris Younghoon Kim, Cornell director of orchestras, conducting the Cornell Symphony Orchestra with percussion soloist Tim Feeney, director of percussion ensembles at Cornell. Matthew Hedman, a Cornell research associate in astronomy, created the video sequence that accompanies the music, using images from NASA's Cassini-Huygens mission to Saturn. The DVD also contains interviews with Sierra and Burns.
A sample of the music may be heard at:
http://www.news.cornell.edu/stories/Jan10/Anillos.html
"Anillos" is available for $15 at Buffalo Street Books, Dewitt Mall, 215 N. Cayuga Street, Ithaca (buffalostreetbooks@hotmail.com, +1 607-273-8246). Also, mail orders are being processed by Elizabeth Bilson at emb9@cornell.edu.
Search IYA2009 Updates
---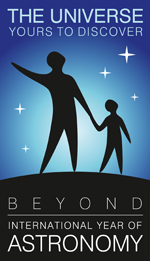 National Nodes: 148
Organisational Nodes: 40
Organisational Associates:33
National Websites: 111
Cornerstone Projects: 12
Special Task Groups: 11
Special Projects:16
Official Products:8
Media Partners:22