Thales Alenia Space meets objectives for 2009
20 January 2010
Thales Alenia Space won contracts for seven communications satellites and three satcom payloads in 2009, along with two observation satellites, nine pressurised modules for the International Space Station, and two experimental atmospheric reentry vehicles.
Communications: new customers and successful partnerships in a sustained commercial market
New customers won: Gazprom in Russia, and OverHorizon, a new operator based in the United States, Sweden and Cyprus.
Solid results, including seven contracts for geostationary satellites: Yamal 401 and 402 for Gazprom, Arabsat 5A and 6B (as co-prime with Astrium), W3C for Eutelsat, Apstar 7 for APT Satellite Company, and OverHorizon (as co-prime with Orbital).
Three payload contracts: one with Indonesian operator PT Telekomunikasi Indonesia to supply the payload for the Telkom-3 satellite, in partnership with ISS Reshetnev of Russia; another to supply the Redsat payload for the Hispasat AG1 satellite; and a third for the payload on the Argentine satellite Arsat-1.
Thales Alenia Space assisted its customers Globalstar and O3b in obtaining financing guarantees from French export credit agency Coface. This enabled restarting production of their satellite constellations, and coping with the difficulties of the financial crisis.
Successful rescue of the Palapa-D communications satellite, thanks to Thales Alenia Space's technical expertise and the unique design of its satellites.
Orbital infrastructure and space transportation: global recognition for Thales Alenia Space's skills and expertise
European Space Agency (ESA) and Thales Alenia Space sign agreement for development of the IXV (Intermediate eXperimental Vehicle) atmospheric reentry demonstrator.
Within the scope of the Commercial Resupply Service (CRS) program, signature of a major contract with Orbital Science Corporation to produce nine new pressurised cargo modules for the International Space Station, using the Cygnus™ spacecraft.
Contract with ESA for development of the EXPERT (EXPErimental Reentry Testbed) program.
Science: an exceptionally successful year for science programs
Thales Alenia Space is an official sponsor of the International Year of Astronomy.
May 2009: launch of the ambitious Herschel/Planck mission for ESA, with flawless performance by the two spacecraft built by Thales Alenia Space as prime contractor.
Initial results from Goce scientific satellite launched in March 2009 expected in January 2010.
The Corot astronomy satellite has its service life extended by three years, to the satisfaction of scientists worldwide.
More information: http://www.thalesgroup.com/Press_Releases/Markets/Space/2010/Thales_Alenia_Space_meets_objectives_for_2009/
Search IYA2009 Updates
---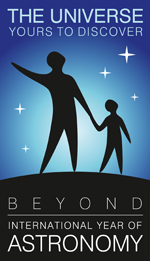 National Nodes: 148
Organisational Nodes: 40
Organisational Associates:33
National Websites: 111
Cornerstone Projects: 12
Special Task Groups: 11
Special Projects:16
Official Products:8
Media Partners:22