Jamaica closes IYA2009 with a successful star party
23 January 2010
In late December the Astronomical Association of Jamaica (AAJ) decided to run a final star party, taking place at the UWI. Mona Campus on a patio above the Physics Department. The main reason for the meet was to introduce members and friends to the fine qualities of Galileoscopes. The AAJ was given 400 units for distribution to High and Intermediate Schools in Jamaica, and this was a practice run for the training of teachers in the assembly, and care of the telescopes.
Participants arrived early at the University, to catch Jupiter at the earliest time after sunset. Two ready-assembled Galileoscopes were brought, along with one in its component parts. Two 3-inch refractors were also present, for comparison.
The telescopes were set on Jupiter and it was explained that observers were looking for Neptune among the moons of Jupiter. Eyepiece expert Bobby Rodriques gave his assessment of the Galileoscopes, concluding that Galileo would have been very happy to have had this instrument. Everyone was pleased with the performance of the Galileoscopes and agreed that the schools will be proud to have them in science programmes.
Thanks to Errol Rickman from the AAJ for providing the information for this update.
Search IYA2009 Updates
---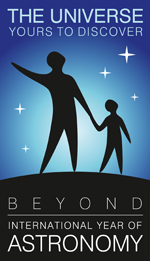 National Nodes: 148
Organisational Nodes: 40
Organisational Associates:33
National Websites: 111
Cornerstone Projects: 12
Special Task Groups: 11
Special Projects:16
Official Products:8
Media Partners:22