Dusk of IYA2009 in Iraq: an event to remember
25 January 2010
By: Azhy Chato Hasan
The sky was cloudy and rainy on 31 December 2009, so the Sun was not visible, except for its wonderful memories of past IYA2009 days. There was a solution: using Stellarium Beta 10.0 software to simulate the real Sun setting that day. The mission was a success after we projected the dusk of IYA2009 with a data show. Members of Amateur Astronomers Association of Kurdistan / Iraq (AAAK) and some guests arrived to AAAK's office in Erbil city at 04:00pm local (13:00 GMT) and the processing began at 04:50:00pm (16:50:00 GMT), then at 04:55:00pm (16:55:05 GMT) the Sun said goodbye to everyone.
The participants were happy for all great goals accomplished around the world throughout IYA2009, but sad to leave that year behind. However, promises were made to continue on the same road of programmes of cooperation and friendship between partners of AWB and SW task group and make more bridges through the sky between us.
After the event, clouds left the sky, and then the IYA2009 carnival finished with a partial lunar eclipse, a magnificent scene between patches of clouds. It was just like a gift from God to all of us, it was really the last most beautiful ending for IYA2009. It also encouraged us to begin our Beyond the International Year of Astronomy activities.
See a clip on YouTube here: http://www.youtube.com/watch?v=b5OznKACNmY
AAAK website: http://kurdastro.org
Search IYA2009 Updates
---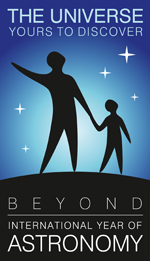 National Nodes: 148
Organisational Nodes: 40
Organisational Associates:33
National Websites: 111
Cornerstone Projects: 12
Special Task Groups: 11
Special Projects:16
Official Products:8
Media Partners:22