Art exhibit bridges cultures in Australia
25 January 2010
Throughout IYA2009 Australia has witnessed an extraordinary celebration of astronomy as inspiration for art and cultural exchange. The latest success story is a project named Ilgarijiri, which means "things belonging to the sky" in the Wajarri Yamatji language of the Murchison region in Western Australia. Astronomy has a strong presence in the area, which is home to the Murchison Radio Astronomy Observatory and a potential location for the future Square Kilometre Array. Astronomy also plays a significant role in the stories and traditions of the indigenous people of Australia.
To connect these two perspectives, in March 2009 a group of indigenous artists from the Yamaji Arts collaboration based in Geraldton spent several days and nights with radio astronomers from Curtin University. They travelled through the region, sharing scientific and traditional stories about the Universe, rediscovering nature and observing the sky.
The result was a collection of more than 80 pieces of art exploring the theme of things belonging to the sky and strong connections with the landscape, which has subsequently toured Australia throughout 2009. The collection includes depictions of the Emu in the sky, the Seven Sisters and many other traditional stories, as well as astronomical images such as planets and supernova remnants.
More information is available on the Ilgarijiri blog: http://ilgarijiri.wordpress.com/
Search IYA2009 Updates
---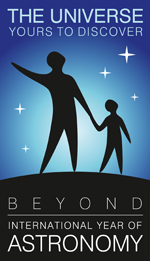 National Nodes: 148
Organisational Nodes: 40
Organisational Associates:33
National Websites: 111
Cornerstone Projects: 12
Special Task Groups: 11
Special Projects:16
Official Products:8
Media Partners:22