EurAstro announce astronomy events in Munich
7 February 2010
The EurAstro Astronomy Association have revealed their plans for astronomy outings for the first half of 2010 in the German city of Munich. Several will be held in the centrally-located European Patent Office (EPO).
Mon 22.02.2010 17h30 Photo Club Vernissage. Dinner for celebrating the 12th birthday of EurAstro.
Fri 05.03.2010 15h "Pleine Lune" exhibition, contest and introduction to astronomy at the Lycée Jean Renoir.
Sun 07.03.2010 M.Polo/ASTRO excursion (in Germany, ethno- or astro-oriented).
Wed 24.03.2010 17h15 EPO room 8661 Introductory presentation: Beyond IYA2009.
Wed 24.03.2010 17h45 EPO room 8661 Public Lecture: Dry deserts, bright stars, and the European Observatories in Chile (Dr. Fernando Comerón, ESO).
Wed 21.04.2010 17h Multi-club event - M.Polo lecture: Military constructions in Brittany, followed by a public observation from the Skybar.
April 2010 is the Global Astronomy Month. There will be further public observations, stay tuned for announcements!
Mon 17.05.2010 17h15 EPO room 8661 Public Lecture: Les Couleurs de l'Univers (EN/FR) by Dr. Ir. Yaël Nazé, EurAstro West Chair. Joyeuse Entrée dinner for celebrating the 19th birthday of ASTRO.
Sat 29.05.2010 Visit to ATT Essen astro fair, departure Mü Hbf 03:17.
Tue 08.06.2010 Multi-club event - Environmental Issues, Climate Change.
Tue 15.06.2010 17h15 EPO room 8661 Public Lecture: L'Astronomie des Mayas (FR) by Sylvia Pardi, EurAstro Executive. Dinner and debate: sponsoring and governance of private observatories.
For more information about EurAstro, please visit their official website: http://www.eurastro.de/ Please note that dates and events are currently provisional and subject to change.
Search IYA2009 Updates
---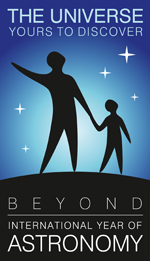 National Nodes: 148
Organisational Nodes: 40
Organisational Associates:33
National Websites: 111
Cornerstone Projects: 12
Special Task Groups: 11
Special Projects:16
Official Products:8
Media Partners:22