IYA2009 News Round-up
22 January 2010
It seemed like this day would never arrive. It's the final IYA2009 news round-up. Stop cheering, it's a sad day. A SAD DAY.
Let's keep it a) brief and b) about the Closing Ceremony. IYA2009 officially ended on the weekend of the 9/10 January during a meeting in Padova, Italy. Obviously you know this already, having followed the LiveBlog avidly. NEWS reported on it as well, as the following links will indicate.
Sky and Telescope have an excellent article, complete with frankly superb images. Life-defining photographs, some may say. Article author Mike Simmons mentions many of the talks given, and includes quotes from new IAU President Robert Williams. Science Newspaper is overflowing with facts, most likely as a result of taking inspiration from the press release. As the Ceremony was hosted in Italy, it's only fair we have an Italian news story. Il Denaro have one written by none other than the famous Dr. Claudia Mignone.
Blogs made the most of the video streaming to offer write-ups. For examples, see Astronomy Sri Lanka, Science Blog, and Science Buzz. And the Sri Lankan site again. Oh, and Tuttidentro. Haven't come across that one before. The Italians ran their own LiveBlog in their native tongue if you're feeling adventurous and want to give that a go.
For video-lovers out there, the Astronomy Beyond 2009 site has recorded coverage of the Ceremony, as does Astroblogger's YouTube channel. For photo-fans, check out Flickr for pics.
Well, that's it. The Round-up Rocket has crashed on Planet News, and here it shall remain forever more. There there, dry those tears. You can always sift through the archive when Fridays arrive and you have nothing to read.
Search IYA2009 Updates
---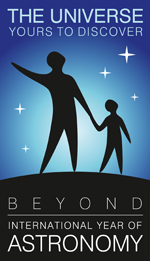 National Nodes: 148
Organisational Nodes: 40
Organisational Associates:33
National Websites: 111
Cornerstone Projects: 12
Special Task Groups: 11
Special Projects:16
Official Products:8
Media Partners:22