Children's astronomy DVD creates a world of music and beautiful imagery
12 February 2010
A DVD entitled "MAMECO, capable tout seul! d'être dans la Lune..." has been produced to educate and entertain young children about astronomy. This DVD was born from the interaction between a group of singers for children called Mamemo and a group of astrophysicists. Mamemo created a world full of poetry where the sky, Sun, and stars are often mentioned in their songs and illustrated in their drawings. They are not only singers, but also broadcast their cartoons in Belgium and also in more than 40 countries. Their typical audience spans the ages 3-10 years.
Given the international broadcasting of their work, the modernity and poetry of their creations, and of course their recurrent references to astronomical objects, a project has been attempted in the framework of the "Universe Awareness" IYA2009 Cornerstone.
10 songs were selected, along with their accompanying cartoon. Astrophysicists from the Université libre de Bruxelles, plus one teacher, devised the "scientific content" of the 32-page booklet that comes with the DVD.
Thanks to the financial support of the Lion's Club (Bruxelles-Sablon), 1500 DVDs have been produced and will be distributed for free to young disadvantaged children (3-8 years) in the coming days.
For more information, please visit: http://www.mamemo.com/
Search IYA2009 Updates
---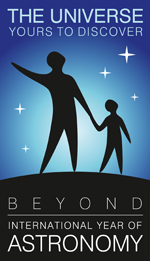 National Nodes: 148
Organisational Nodes: 40
Organisational Associates:33
National Websites: 111
Cornerstone Projects: 12
Special Task Groups: 11
Special Projects:16
Official Products:8
Media Partners:22