Help to collect stories about the stars
27 February 2010
The project "The Sky of our grand parents" involves the general public, in particular ancient people and rural and isolated populations, in collecting traditional stories in order to discover old myths and ancient knowledge of astronomy before they become lost.
The Science Museum of the University of Coimbra is looking for partners who are willing to collect texts and stories all over the world and make them available to the public.
Contributions in Portuguese or English will be included in this website, and a link to websites with contributions in other languages will be included as well.
For more information, please see: http://www.museudaciencia.pt/index.php?iAction=Actividades&iArea=3&iId=107
Search IYA2009 Updates
---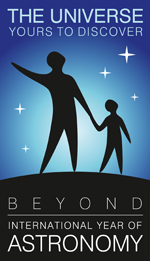 National Nodes: 148
Organisational Nodes: 40
Organisational Associates:33
National Websites: 111
Cornerstone Projects: 12
Special Task Groups: 11
Special Projects:16
Official Products:8
Media Partners:22