Space Education and Outreach Symposium call for abstracts
1 March 2010
Space Education and Outreach Symposium at this year's International Astronautical Congress is taking place in Prague at the end of September. This symposium deals with activities, methods and techniques for formal and informal space education at different educational levels, space outreach to the general public, space workforce development, etc. Each of the sessions in the symposium features an invited key note speaker followed by presentation of selected papers. Symposium sessions may also include panel discussions.
When submitting abstracts for consideration, please note that:
Papers should have clear education or outreach content – purely technical details of projects, even if carried out in an educational context, will not usually qualify.
Papers reporting on programmes/activities that have already taken place will usually be received more favourably than those dealing with concepts and plans for the future.
More weight will usually be given to papers that clearly identify target groups, benefits, lessons-learned, good practice and that include measures of critical assessment.
You can find the full IAC call for papers and details of how to upload abstracts at: http://www.iac2010.cz/en/call-for-abstracts
The deadline for submission is this Friday, 5 March.
Details of the symposium and its sessions:
E1.1. LIFT OFF - PRIMARY AND SECONDARY SPACE EDUCATION
This session will focus on all aspects of primary and secondary (K-12) space education.
E1.2. ON TRACK - UNDERGRADUATE AND POSTGRADUATE SPACE EDUCATION
This session will focus on all aspects of undergraduate and (post)graduate space education.
E1.3. CALLING PLANET EARTH - SPACE OUTREACH TO THE GENERAL PUBLIC
This session will focus on activities that aim to promote awareness and understanding of space in the general public.
E1.4.NEW WORLDS - INNOVATIVE SPACE EDUCATION AND OUTREACH
This session will focus on novel and non-standard methods of space education and outreach in non-traditional areas and to non-traditional target groups.
E1.5. TO BOLDLY GO - SPACE STATION EDUCATION AND OUTREACH
This cross-cutting session will focus on education and outreach activities that leverage the inspirational value of the International Space Station and which aim to prepare today's students and future generations to be actively involved in turning space exploration visions into a sustainable endeavour.
E1.6/E5.4 WATER AND SPACE: SOCIETAL, EDUCATIONAL AND CULTURAL ASPECTS
(Joint session with the IAA Commission VI, co-sponsored by ITACCUS). This joint inter-disciplinary session will explore the societal and cultural contexts of water as they are related to space. Possible topics include: political and economic issues; how the crises affecting oceans impact society; how the discoveries of water on the Moon and Mars impact both the human condition on Earth and human space exploration; the way the arts, popular culture and entertainment engage with cultural issues related to water, remote sensing co-ordination and public access; educational programmes relating to water from space and water in space, etc.
E1.7. SPACE WORKFORCE DEVELOPEMENT – CHALLENGES AND OPPORTUNITIES
This session will focus on challenges, opportunities and innovative solutions for attracting, improving and retaining the future and current global space workforce.
Search IYA2009 Updates
---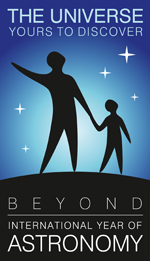 National Nodes: 148
Organisational Nodes: 40
Organisational Associates:33
National Websites: 111
Cornerstone Projects: 12
Special Task Groups: 11
Special Projects:16
Official Products:8
Media Partners:22