Bareket Observatory brings cutting-edge science education within reach
2 March 2010
Bareket Observatory (Israel) introduces teachers and students from around the country to other colleagues from all over the globe and provides them with the scaffolding to perform research projects in their classroom. Students are participating at the projects by using the observatory's on-line activities and completing observations on its state of the art remote internet telescope, analysing the data and interpreting their results.
The ASTRO-EDU programme's core actions give an opportunity to anyone who has an interest in the night sky and wishes to have fun learning about the Universe in a scientific manner. It is "research-based" in the sense that it integrates scientific research with education, globally speaking.
In order to achieve a comprehensive coverage for the project it was decided to start an initiative to create a large educational database for students and teachers. Over the following months a new state-of-the-art educational website, including lesson plans, online activities, video training, a CCD library, and much more will be released. A goal is to translate all materials into Arabic to make it more accessible to the Israeli population.
For more information about the Bareket Observatory, please see their official website: http://www.bareket-astro.com/
Search IYA2009 Updates
---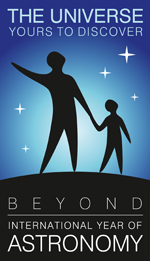 National Nodes: 148
Organisational Nodes: 40
Organisational Associates:33
National Websites: 111
Cornerstone Projects: 12
Special Task Groups: 11
Special Projects:16
Official Products:8
Media Partners:22