BLAST! Home PAL DVD available
19 March 2010

BLAST! is a unique astronomical adventure movie. This Special project of IYA2009 has now been seen by over one million people worldwide. As a special offer to IYA2009 friends, the PAL Home DVD of BLAST! is being pre-released internationally for only $29.99. The Educational Double Disc for is still available for $250. This limited offer ends 31 March 2010, so please act quickly!
To buy the BLAST! Home PAL DVD visit - https://www.createspace.com/275710
Visit http://www.blastthemovie.com to learn more about BLAST!
More information about the film: Welcome to Astrophysics - Indiana Jones Style! Five-time Emmy winner Paul Devlin, follows his brother, Mark Devlin, Ph.D. to 5 continents, from the Arctic to the Antarctic to launch a revolutionary new telescope on a NASA high-altitude balloon. Mark's tenacious team, made up mostly of graduate students, hopes to look back in time to reveal a hidden Universe of newly formed star-burst galaxies. From catastrophic failure to transcendent triumph, their adventure reveals the surprising real life of scientists.
Search IYA2009 Updates
---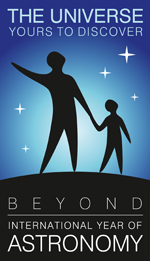 National Nodes: 148
Organisational Nodes: 40
Organisational Associates:33
National Websites: 111
Cornerstone Projects: 12
Special Task Groups: 11
Special Projects:16
Official Products:8
Media Partners:22