Be part of a worldwide peace chain for Global Astronomy Month
26 March 2010
Inspired by the idea of sharing the beauty of the sky across national borders, "Thirty Nights of StarPeace" is a worldwide-scale event that will join together astronomy groups in neighboring countries, one patch of Earth at the time, on successive nights during the month of April.
Using geographical longitude as a reference, the Earth has been divided into 10 equal segments, each one spanning 36 degrees of longitude. Countries located in each of these 10 segments will have a period of three days to participate in the Thirty Nights of StarPeace project.
To be involved, synchronise your group with an astronomy group across your national border, so that both groups observe the beauty of the sky at the same time. The event will start at 180 degrees longitude (the International Dateline), and proceed westward in three-day increments. Thus, countries located between 180 and 144 degrees east longitude will pick a night from 1-3 April for their public night of observation. Countries located between 144 and 108 degrees will have the 4-6 April time-slot, and so forth. In this way, through the month, the starry-night experience will progress around the globe westward in 10 stages, creating a global star peace!
For more details, please visit: http://www.astronomerswithoutborders.org/index.php/projects/global-astronomy-month/programs/global-programs/111-physical-events/254-30-nights-of-starpeace.html
Search IYA2009 Updates
---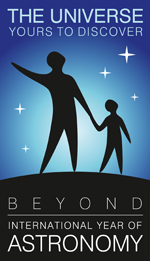 National Nodes: 148
Organisational Nodes: 40
Organisational Associates:33
National Websites: 111
Cornerstone Projects: 12
Special Task Groups: 11
Special Projects:16
Official Products:8
Media Partners:22