Dark skies forecast for Global Astronomy Month
26 March 2010
International Dark Sky Week
From 4 - 10 April 2010, International Dark Sky Week celebrates the heritage of the nighttime sky by encouraging people to turn off unnecessary lights. The event began in 2003 as National Dark-Sky Week in the United States and officially became international during IYA2009. The key to success is the broadest possible participation.
World Night in Defense of the Starlight
20 April has been designated as the "World Night" in defence of the Night Sky and the Right to Observe the Stars as a cultural, scientific and environmental humankind heritage. Every year on 20 April we remind ourselves of the need to preserve our right to view a dark night sky full of stars and to take steps to prevent its disappearance. World Night is an opportunity to get actively involved in many ways, helping promote dark skies awareness and responsible lighting.
Earth Hour 2010
For now, you can warm up by participating in Earth Hour. On 27 March 2010 at 8:30 pm, millions of people around the world will come together once again to make a bold statement about their concern for climate change by doing something quite simple—turning off their lights for one hour. Earth Hour symbolises that, by working together, each of us can make a positive impact in the fight against climate change.
Details about Global Astronomy Month dark skies projects can be found here, wth additional initiatives being added soon: http://www.astronomerswithoutborders.org/index.php/projects/global-astronomy-month/programs/global-programs/116-dark-skies.html
Search IYA2009 Updates
---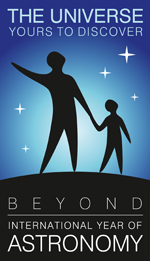 National Nodes: 148
Organisational Nodes: 40
Organisational Associates:33
National Websites: 111
Cornerstone Projects: 12
Special Task Groups: 11
Special Projects:16
Official Products:8
Media Partners:22