China, the Philippines and New Zeeland kick off 30 Nights of StarPeace
1 April 2010
April 1 marks the beginning of Global Astronomy Month 2010, the long-awaited global celebration of people sharing the same sky. The day begins just West of the International Date Line so Oceania and Eastern Asia are the first to mark the start of what will be a month full of events. And what better way to do it than with 30 Nights of StarPeace?
China, the Philippines and New Zeeland kick off the peace chain tonight, sending it around the globe throughout GAM. Dr. Jin Zhu Director of Beijing Planetarium, China, Dr. Armando Lee of The Astronomical League of the Phillipines, and Paul Moss of SKY, New Zealand will hold joint, though distant, observing events on the first nights of this peaceful circumnavigation of the globe.
The celebration begins at 07:00 UT on April 1 with a sidewalk astronomy event in the centre of Wellington, New Zealand, in an entertainment zone called Courtenay Place. At 11:00 UT all three countries participate in an international star party that includes "Saturn Sharing" at 12:00 UT.
The countries are using online technology to keep in touch during the events. The highlight comes at 09:00 UT when the countries meet online together to share pictures, impressions of the events and ideas for the next time.
Groups between longitude 144 and 108 degrees East are encouraged to join the celebration through April 3. After that, events move to the next link in the chain to the west.
More about on the 30 Nights of StarPeace project page
Search IYA2009 Updates
---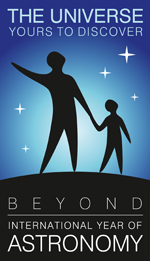 National Nodes: 148
Organisational Nodes: 40
Organisational Associates:33
National Websites: 111
Cornerstone Projects: 12
Special Task Groups: 11
Special Projects:16
Official Products:8
Media Partners:22