OSA Foundation To Donate Hundreds Of Telescopes To Milwaukee Students Through Galileoscope Challenge
28 April 2010
The OSA Foundation announced recently the launch of a new program to donate hundreds of telescopes to students in the Milwaukee area, while educating them about science, optics and astronomy. The OSA Foundation, through a partnership with the Institute for the Transformation of Learning and a grant from the Greater Milwaukee Foundation, will donate nearly 500 "Galileoscopes" as well as books and DVDs about Galileo Galilei and astronomy to six local middle, junior high and high schools as part of its program called the Galileoscope Challenge.
The Galileoscope is a high-quality, low-cost telescope kit developed for the International Year of Astronomy 2009 by a team of leading astronomers, optical engineers and science educators. The easy-to-assemble telescope has a 50-mm (2-inch) diameter, 25- to 50-power achromatic refractor, allowing students to gaze at the celestial wonders that Galileo Galilei first glimpsed 400 years ago.
The Galileoscope Challenge aims to distribute these scopes to students around the world, particularly those who are underserved. As part of this program, Optical Society (OSA) members Carlos Lopez-Mariscal, a post-doctoral scholar at the University of California, Santa Cruz, and Yasaman Soudagar, a Ph.D. candidate at the University of Toronto, will be traveling to Milwaukee next week to educate the students receiving the scopes.
Lopez-Mariscal and Soudagar will teach the students about Galileo, optics and the Galileoscopes. Students will be able to keep the Galileoscopes, along with a local star-chart of their area so they can stargaze from home.
"The Galileoscope Challenge is a way for students to not only view marvels such as Saturn's rings and the four moons circling Jupiter, but it is also a way to get them excited about optics," said Meredith Smith, OSA Foundation director. "This program could very well influence who becomes our next generation of scientists."
The participating Milwaukee-area schools will be the Believers In Christ Christian Academy, the Milwaukee Renaissance Academy, the CEO Leadership Academy, the Greater Holy Temple Christian Academy, King's Academy Christian School, and the Darrell Lynn Hines Preparatory Academy of Excellence. The OSA Foundation hopes to expand the Galileoscope Challenge into an after-school and summer program, as well as repeat it at other schools during the year.
For more information about the Galileoscope Challenge, visit: www.osa-foundation.org.
Search IYA2009 Updates
---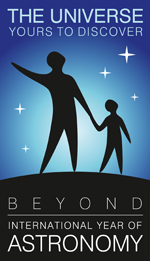 National Nodes: 148
Organisational Nodes: 40
Organisational Associates:33
National Websites: 111
Cornerstone Projects: 12
Special Task Groups: 11
Special Projects:16
Official Products:8
Media Partners:22